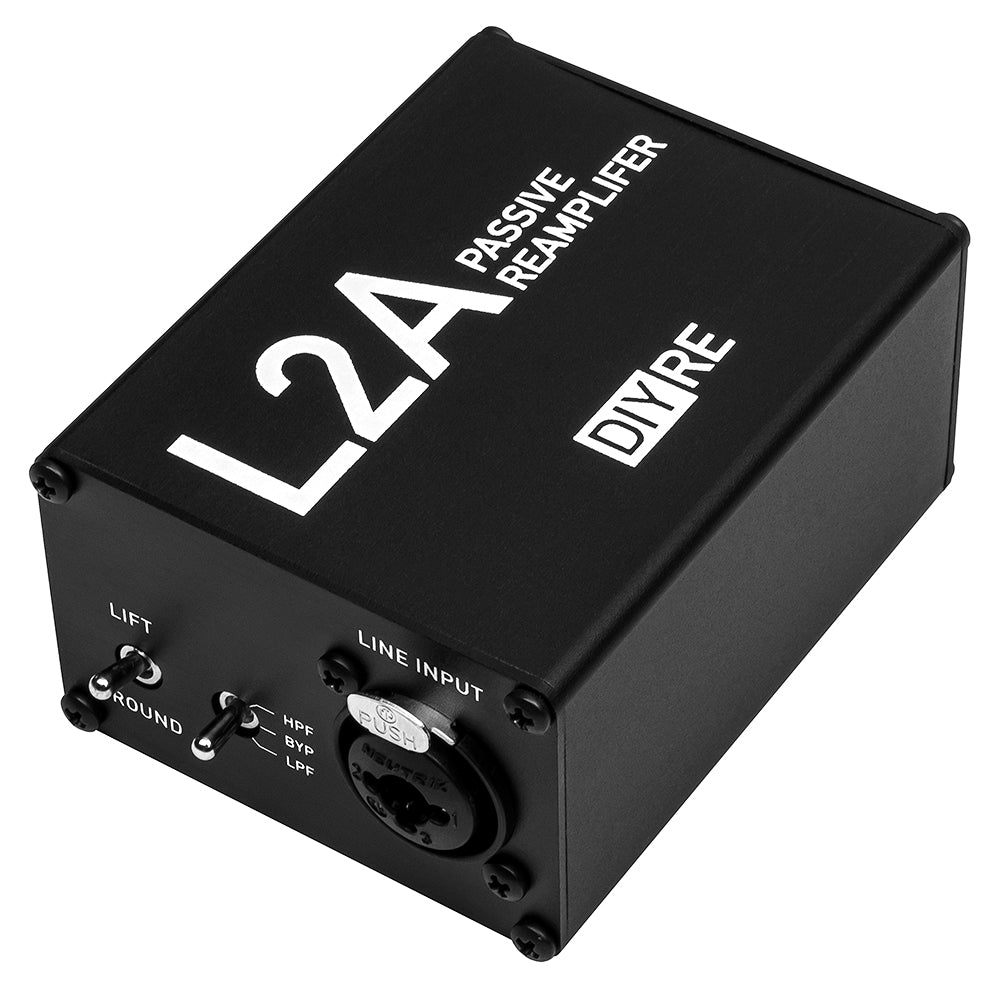 DIYRE
L2A Passive Re-Amplifier Kit
Full Kit
Step-by-Step Guide
Supported
Beginner
Get started with DIY and build your own professional reamping box with our most popular kit. The L2A is a rugged, sonically transparent re-amplifier that just happens to be a DIY kit. It's also a simple, fun DIY kit that happens to be an excellent piece of studio gear.

---
Unrivaled feature set

The L2A is the only passive re-amplifier to feature a Neutrik combo XLR/TRS input jack. No need to grab a TRS-to-XLR adapter.
The L2A's three-way filter switch makes re-amping any source imaginable a breeze. The low-pass filter (LPF) tames high-frequencies, useful for mellowing out guitars and other bright sources, while the high-pass filter (HPF) is perfect for tidying up the low-end and sub-bass frequencies.
Kit Includes
Neutrik COMBO XLR/TRS input jack

Transformer custom wound in the USA

Filter stage with Bypass, 1Khz LPF, and 160Hz HPF settings
Super-durable enclosure made from architectural aluminum
Circuit board custom designed for beginners
Metal-film 1% tolerance resistors
21-detent stepped potentiometer (volume knob)
Every nut, bolt, and wire needed to complete the project
---
The fun part
Designed specifically for DIY beginners, the L2A presents no risk of electrical shock, consists of only a few parts, and can be built in about 30 minutes. Step-by-step instructions are available at diy.re/l2a-manual
Estimated build time: 30 minutes
---
Make something great
The L2A multiplies the sonic possibilities of your recording setup by letting you plug the output from your computer, mixer, or tape machine into your guitar amps and effects pedals. Suddenly, all of your guitar gear becomes another set of tools for adding excitement, depth, and harmonic saturation to your pre-recorded audio.
| | |
| --- | --- |
| Input Impedance | 10k |
| Output Impedance | 15k |
| THD+N | <0.05% @ 1K Hz |
| Filter Freqs | 160Hz HPF, 1kHz LPF |
---
What the pros are saying
"If you are considering a DIY build but are a little intimidated I highly recommend the [L2A]. You'll have a blast. Even if you aren't thrilled about building your own gadget, I'd take a serious look at it. It's a hell of a tool and the price is right."
- Brandon Drury, Recording Review
---
One of the most useful DIY projects
This project was super easy to assemble and sounds fantastic when complete. I immediately went into the studio to reamp some clean guitar tracks that I recorded direct because I wasn't yet sure of what type of guitar sound I wanted prior to recording. This little box allowed me to try out several different amp and distortion sounds to see how each one fit into the mix. It was completely transparent and accurately converted the line level signal into a Hi-Z signal for reamping. I used it with various amps. I also used it to reamp a bass track through a distortion pedal. The results were phenomenal! I did not, however, find the filter circuits necessary. Nonetheless, they are there if I ever need them.
Perfect!
Took maybe 15 minutes to assemble and does the trick for converting a DAW's line signal back into guitar pedal world. Will get a lot of use out of me for reamping to delay pedals and reverbs!
Great re-amp box!
Great kit with easy to follow instructions and the clicky knob is a lovely touch!
great kit with excellent instructions, and useful little box
This is my first soldering project, and (aside from some ugly solder joints) everything went perfectly. The instructions were really clear and gave many useful tips (e.g. wait 20 seconds between the pins of the transformer, so you don't burn it out). Everything was neatly packaged and easy to find. My middle-aged eyes did have a hard time reading the resistor values, but i can't fault DIYRE for that... Just plugged it in and it works perfectly, no noise. Perfect box for incorporating pedals as outboard effects into my DAW. Thanks!
Great build and handy studio tool.
The instructions are clear and easy to follow. The box sounds great! I use it to reamp guitars and synths in my project studio with no issues.
Related Products