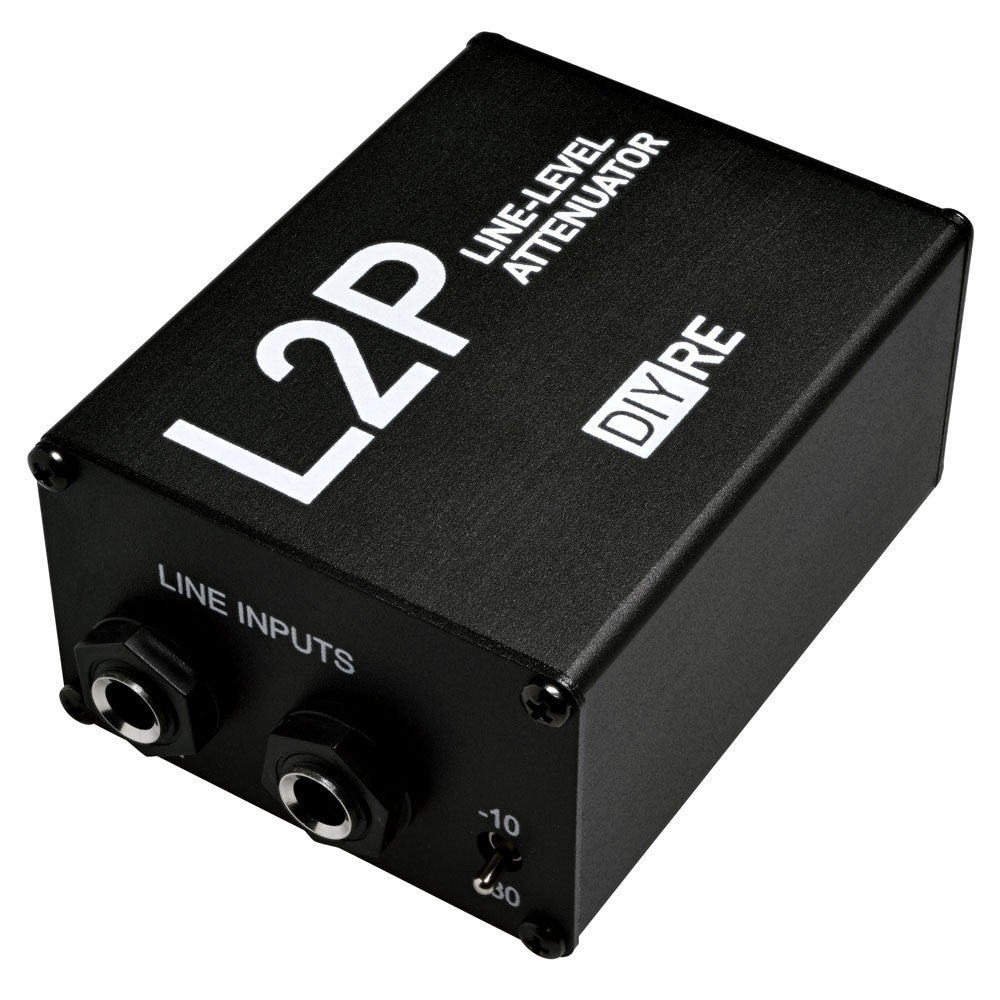 DIYRE
L2P Passive Line Attenuator Kit
Full Kit
Step-by-Step Guide
Beginner
Get the most out of your mic preamps. Use your preamps as line-level saturation devices, or pad their output so you can drive them harder.
The L2P is a two-channel, balanced line/mic pad with two attenuation options. The -10dB setting is perfect for padding the output of mic preamps so you can run them hot without clipping your converters. The -30dB setting is a "line-to-mic" pad that allows you to run tracks directly from your audio interface or mixer to the inputs of your preamps.
Features:
Selectable -10dB or -30dB pads
Two channels
Excellent matching between channels for stereo operation
Line-to-mic pad 
| | |
| --- | --- |
| Input Impedance | 8.1k/5.5k (line out / mic out) |
| Output Impedance | 2.7k/150 |
| Attenuation | 10dB/30dB, selectable |
| Noise Floor | -113dBu/-115dBu (line out / mic out) |
Kit Contents:
Amphenol XLR jacks
Xicon 1% metal film resistors
Enclosure extruded from 6063 "architectural" aluminum
Anodized black finish
Secret Weapon
This is awesome. It unlocks so much in mixing and even production. I love the fact I can send my 808 into any of my pres and gain some wonderful flavor.
Works exactly how intended
It does exactly what it is supposed to do! Setup and the build were super quick and now it lets me run stems through my Phoenix Audio Ascent Two-EQ without any distortion since even with the built in pad it was not intended to take line level input. Patched right into my patchbay with no problems at all. Super glad I bought it.
Essential tool to get out of the box!
Great, simple kit with quality parts and flawless documentation.
Using for post-console/pre-converter mix
Originally built it for re-amping through my CP5 preamps, but found out that the pads on the preamps are sufficient. So I thought I didn't need it, but recently discovered it's usefulness between my console master-outs and my interface while recording the 2-track back into the computer.
My Midas F32 can handle insane master-buss summing levels, but the output is far too hot for my Quantum4848 converters. So I run the LP2 between the two with the pad set at -30 dB. This allows me to slam the master buss of my console while keeping all faders at unity without blowing my converters away.
I'm glad I found a use for it, and it is VERY useful for this hybrid analog/digital recording set up.
Thank you Peterson.
Easy Rewarding Useful Build
Very easy for a novice diy builder. Very useful tool.
Related Products