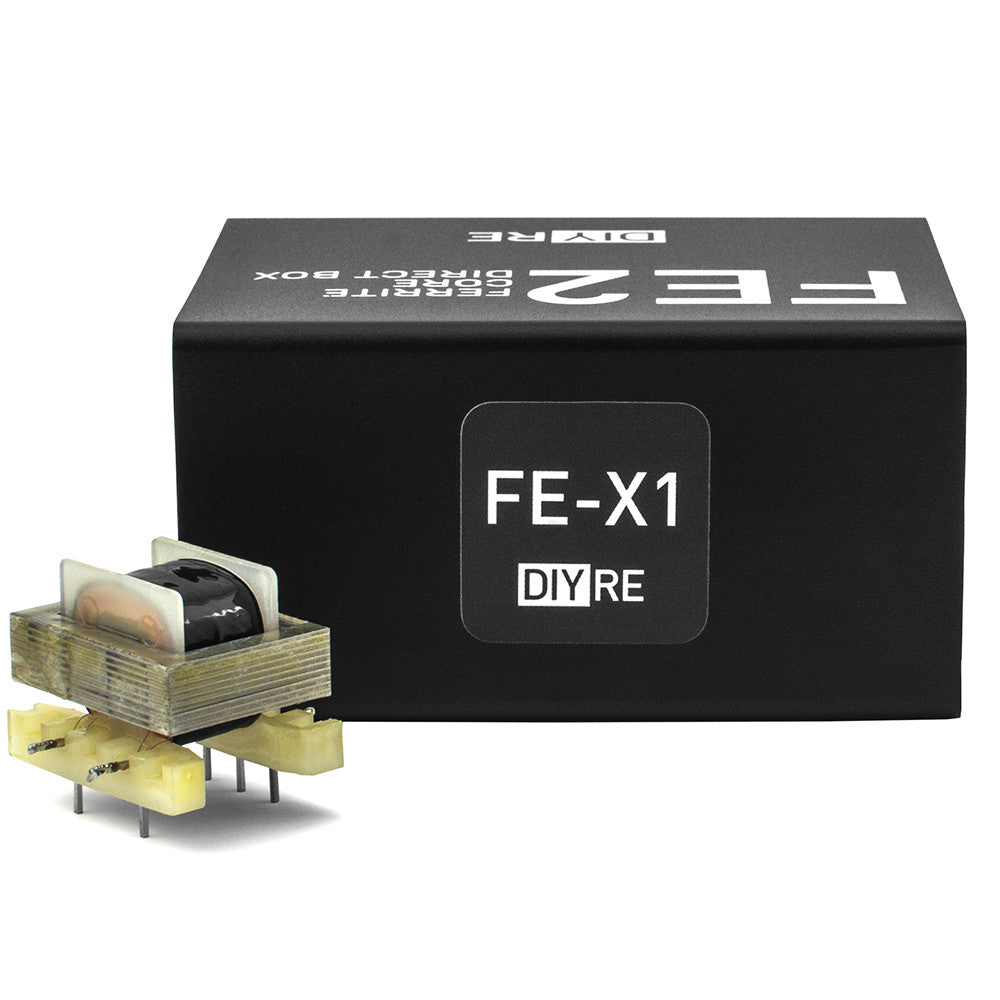 DIYRE
FE2 Direct Input Box Kit
Full Kit
Step-by-Step Guide
Beginner
Build your own boutique passive direct box.
Our popular DI box kit is back with expanded features and two transformer options. The FE2's studio-quality electronics are housed in an architectural aluminum enclosure that's rugged enough for the road.
The new FE2 features a through jack for patching to an amp or speaker and a switch for selecting between instrument or amp sources. The amp, or "SPKR," mode is great for recording old guitar and bass amps without line outputs.
The FE2's output section features a Neutrik XLR jack and ground lift switch for eliminating hum. 
Transformer Options
We're proud to offer two USA-made transformer options: the FE-X1 wound for us and the legendary Cinemag CM-DBX. 
The main difference between the transformers is their noise immunity. The sonic differences between them are very subtle, but when radio signals or other interference are present, the higher-priced transformers will exhibit less noise. Click on the "Audio" tab above to hear samples of each transformer.


FE-X1
$60
CM-DBX
$150
Sound
Clear, modern
Vintage, rounded
Made in the USA




Mic output shield




Mu-Metal Can




Instrument input shield




Features
Switch between instrument or amp input mode
Thru jack for patching to amp or speaker
Rugged, architectural aluminum enclosure
Three transformer options, from budget to boutique
Ground lift switch to eliminate hum
Input Impedance
~200k/800k Ohms (depending on mic preamp)
Transformer Turns Ratio
12:1
Attenuation
22dB/38dB (instrument/speaker input)
Both transformer options for the FE2 are exceptionally transparent when compared with the original ("dry") signal, with subtle tonal differences.
Samples were taken by sending pre-recorded tracks from an Echo Layla 3G interface to the FE2 and then back into the Layla's mic inputs. The mic input gain was set the same for every transformer. The recorded files were then normalized to eliminate differences in volume.
Assembly video:  
Sounded great but is now just a paperweight
I've always loved building my own gear and as an AV Engineer, I have a healthy knowledge of how these things work. I'd read from others that the PCB and chassis don't line up, but they sound great for the low cost. It was an easy build, I was able to adjust for the PCB/chassis misalignment and I was impressed with the sound quality for maybe 4 months. Then the S/N ratio started going out of whack and the sound quality plummeted. I figured it got dropped or something, so I metered everything. The transformer was the only readings that changed. I contacted tech support and just received instructions on how to not cold solder. Doing hot soldering is AV 101, but I went ahead, de-soldered and cleaned everything, metered all the parts and rebuilt the whole unit, but it still sounded like crap. For me it was less about the bad part and more about the tech support. I've seen a $10,000 Neve piece go bad, but they were more helpful than DIYrec was.
Hi Torsten,
I'm very sorry to hear your FE2 still isn't working and you weren't happy with how our support thread is going. I always try to stay on the line with customers until the issue is fixed, so I apologize if I dropped the thread. I just sent you a follow up email but in case you didn't get it please feel free to contact me at support at diy.re.
-Peterson
what a great kit.
I've built a few of these now and I have to say what a brilliant package this is. Sure it's a well-documented, inexpensive, terrific first-timer learn-to-solder project...
...but I've been soldering for 42 years and this kit is just the best deal I can find for a great D.I. Seriously. These are great sounding transformers with a genius board layout and quality components.
Please release a 2 or 4-channel version for our keys guy!
Great kit, fun build!
The newest kit revision is nearly foolproof with excellent instructions. As far as sound quality, I got the Cinemag transformer option and on electric guitar it's almost indistinguishable from my radial JDI, possibly a bit more growl in the low mids, but at $50 less, less bulky and lighter in a gig bag, this is a no brainer. The amp DI option is super fun if you have a great tube amp but want to use cab IRs without paying for a fancy Ox Box or Captor X or something. I built the Bo Hansen 1975 active DI as well, that has a little more brightness, but it's active vs passive and the difference is not as big as you would think. Overall thrilled with this project.
Great kit and fun to build!
Works as advertised, parts and enclosure quality is great, packaging is top-drawer. The end result is a great DI plus a healthy dose of skepticism towards devices many times as expensive.
FE2 - first build!
I had a lot of fun building this, and it sounds good too! I went for the version with the cinemag transformer. I'm definitely a beginner when it comes to soldering etc, and I found the video instructions to be clear and easy to follow. Really impressed with this box overall, and I'm looking forward to ordering another DIYRE kit before long.
A couple very minor issues: I agree with another user's comment that it was a bit difficult to get the the longer screw into the unthreaded Nuetrik jack. I had to apply a lot of pressure to get it to move, and wound up messing up the the head of the screw in the process. I was also a little surprised by the lightness of the case compared to other DI boxes. Seems like a sturdier case probably wouldn't have changed the price point very much, and might've been worthwhile considering DI boxes tend to spend a lot of time on the floor. Tiny nitpicky comments aside, this was a great first project. Thanks!!
Related Products