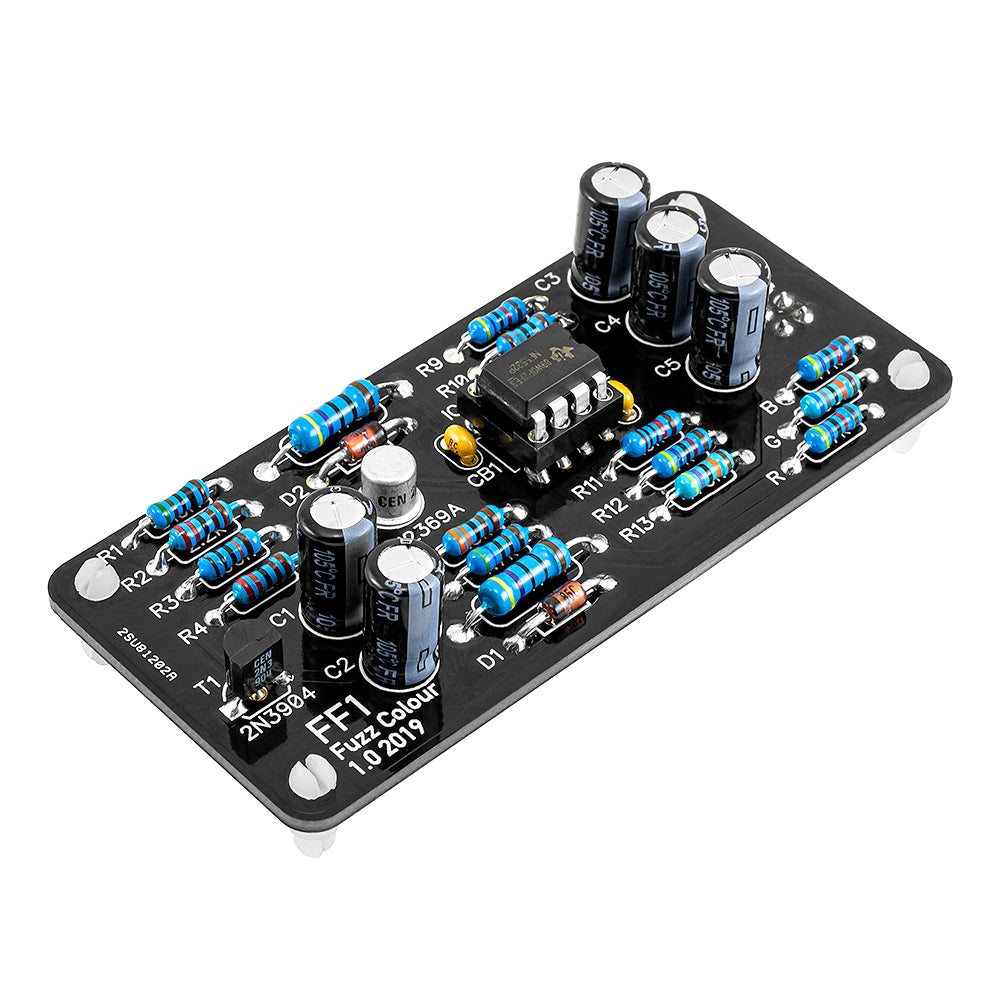 DIYRE
FF1 Fuzz Pedal Colour
Let's talk about Fuzz. It is here to ruin your guitars, cheapen your bass, and forgive your drums. You don't need it, you crave it. It's bad for you. No one who loves you would offer you fuzz. And yet we make it, and we love you, and we just added it to your cart. You're welcome.

The FF1 is based on the original Fuzz Face circuit, with silicon transistors like any modern Fuzz Face interpretation. Not just for guitars anymore, the FF1 breaks from the pedal design by lowering the filter cut-off to be more useful on a variety of sources.
At lower settings it can be quite polite, but it's capable of that gritty, fuzzy destruction we all know and love.
FEATURES
On-board regulators for operating at actual 9v pedal voltage
The classic silicon fuzz sound
Compatible with the Colour format
Full, step-by-step assembly instructions and support
fuzz colour
Fuzz is a great tool I can use it not only in a vocal or instrument fanal, it is also excellent in some mixes giving a little touch to enhance the colour of the song ! it's a great element!
Fuzz Colour isn't what you think it is, its better than that.
A few years ago I had this amazing 2U box of transformers I used to run all my mixes through. It was switchable between Iron, Steel, and Nickel transformers, plus it had two switchable Germanium transistor based circuits not unlike this Colour module (though this one has a Silicon - more on that in a second) and sounded great on certain drum and percussion elements. The issue was the Germanium sound was almost too smooth and I really had to crank gain INTO the circuit to get the sound I wanted. I think this Colour module fills in that niche very well because its not exactly a fuzz like a guitar pedal, its more of a tool to augment certain elements. The sound is really pure at lower saturation levels adding a bit of weight to elements with lower and lower mid tonalities. It sound great in parallel on snare and bass DI. I made a relatively simple demo song for this video and the module is in mono so as you hear the stereo image collapse you will hear more of the circuit at work. I think it sounds best on certain aux groups at 20% or so but you can CRANK gain into this thing and get some amazing sounds. I really feel like this module would be great as a subtle effect much in the same way I use 15ips and JFT modules. I sold that other gear a long time ago but the excitement of realizing that similar sound was available to me (and $1k cheaper than the other box!) is pretty coooooool.
Related Products