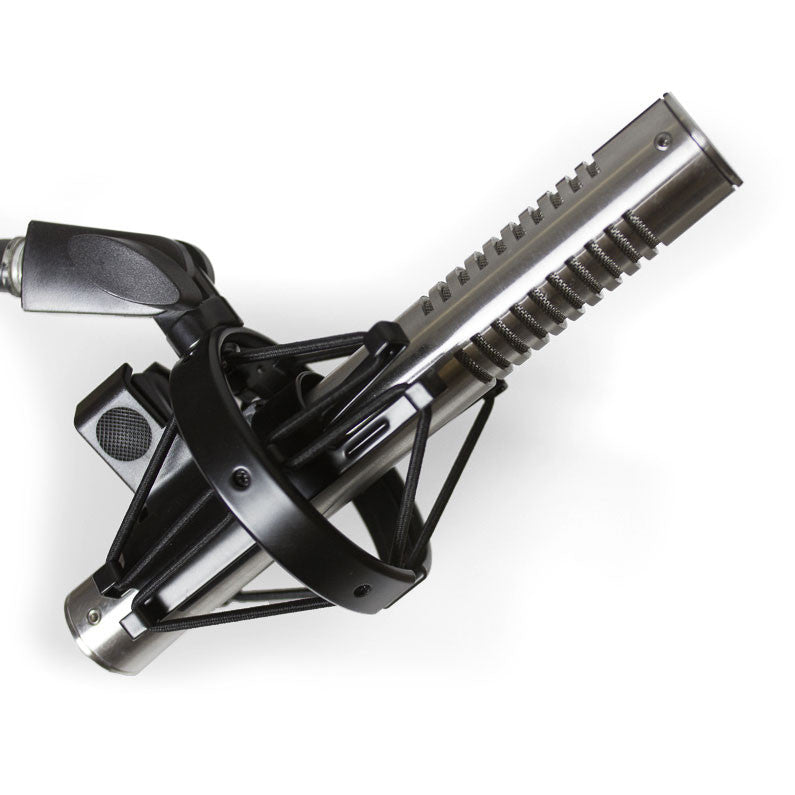 Bumblebee Pro Audio
RM-5 Ribbon Microphone Kit
Full Kit
Step-by-Step Guide
Beginner
Artur Fischer's RM-5 is a classic, figure-8 ribbon microphone featuring modern, custom-designed components manufactured in Latvia. The RM-5 shares the warm and rounded tonal qualities associated with its vintage counterparts. However, at it's core the RM-5 is simply an exceptional transducer, capturing every source, from gritty electric guitars to hushed vocals, in a way that is natural, detailed, and balanced.
The RM-5 features the same stainless steel body and gold-plated XLR connector as the flagship RM-6 Ribbon Microphone.
To purchase the RM-5 outside of the US and Canada, please visit the DIY Audio Components Store.
Features:
RE-254 ribbon transducer made of 2.5

µm Japanese aluminum foil and neodymium magnets

Custom RTP-35 transformer designed specifically to complement the RE-254 ribbon 

Microphone body machined in Latvia of hand-selected stainless steel and matte polished for Bumblebee Pro's signature finish

Custom XLR recepticle with gold-plated pins for decades of reliability
DIY Friendly
The RM-5 kit is designed for beginners—you don't need any mic-building experience to successfully complete the build. The required tools are a soldering iron, some solder, and a hex wrench (Allen Key) set. The entire assembly includes only six solder joints. To ensure world-class performance, the kit comes with the RE-254 ribbon transducer pre-assembled and hand tuned. And finally, the kit is backed up by our friendly Guaranteed Support.
Kit Includes:
A shock mount is not included. The SM-28 is sold separately here.
RE-254 ribbon transducer (pre-assembled)
RTP-35 transformer
Stainless steel microphone body and mounting hardware
XLR insert with gold-plated pins
What is the difference between the RM-5 and RM-6 DIY Ribbon Mic kits?
The RM-5 and RM-6 are two different designs, they just share the same type of body. The main differences are:
RM-5 is a big ribbon mic with a 2″ ribbon; RM-6 is a small ribbon mic with a 1″ ribbon
As is typical for shorter ribbons; RM-6 has less distortion and sounds more "natural"
RM-6 has a slightly flatter frequency response than the RM-5
RM-6 has significantly higher output signal level, at least +3dB higher than RM-5
RM-6 has much lower magnetic flux leakage; there is practically no attraction between two microphones standing side by side
RM-6 motor comes with a 1.2u ribbon, while the RM-5 motor comes with a 2.5u ribbon
RM-6 comes with RTX-28 toroidal transformer optimized for thinner foil gauges
The samples below demonstrate the RM-5 on a range of sources. The acoustic guitar was mic'ed with RM-5s at the bridge and 12th fret. Electric guitars were double tracked; the "Soft Overdrive" was mic'ed with the RM-5 8" from the driver, on-axis while the "Hard Overdrive" was mic'ed with the RM-5 10" from the driver, slightly off-axis. The accordian was recorded with the RM-5's in a Blumlein pair configuration about 2' from the instrument. The brass quintet and church organ were recorded in The Netherlands by Jo Smeets in a Blumlein configuration. The harmonica was recorded with the RM-5 about 8" from the instrument.
Fun little project.
This was a very simple and fun DIY project. The housing is very solidly built. The end result is a little bit noisy (I'm running through a DIY:RE MB2), which is the only thing holding me back from giving it a full 5 stars, so maybe I'll play around with different transformers or even different ribbons/motors if I can find them.
This is a great microphone!
I purchased this microphone with a slightly unusual use case in mind. To play live music with my double bass. This necessitated me making some modifications to the microphone to fit it to my instrument, however the quality of the microphone body made that relatively easy to accomplish. I cut 50mm from the bottom and reseated the XLR connectors. Once this was complete, the assembly of the microphone itself was incredibly simple.
The sound quality of the RM-5 is nothing short of amazing in the context I was using it. I played a jazz gig with a quintet and the sound reproduction was stellar. I was very pleased with the performance and would not hesitate to use the RM-5 in smaller, intimate settings.
As a musician that plays double bass, I have spent so much time searching for accurate sound reproduction in a live setting. While a piezo is reliable, it is not necessarily accurate in capturing tone. The microphone provides the highest fidelity, but can be difficult to use live. The size, shape, and quality of this microphone allowed me to use it in a way that accurately reproduces my musical voice in a way that is not only pleasing, but practical.
Great ribbon mic
I enjoyed using this mic and enjoyed the build. I definitely used a high pass filter to help with the enhanced low end of the mic, but I knew that going into it thanks to the other reviewers. Very clear sound when recording violins last week.
6 solder points. One is a bit nerve wracking!
The hardest part for me was getting the top and bottom cap off. This is because the mic was in my mailbox in 30 degree weather. Place mic in front of a space heater for 20 minutes or just wait a few hours before starting to build. Physics is annoying. After that, everything was pretty smooth. I carefully would twist the wires, and then untwist if one was too long, that meant the twist wasn't even. No trimming required, though each took 3 redo's. The wires felt a little flakey but I think it's just an outer coating. I'm a super beginner with a sloppy hand. The capsule was nerve wracking as not much area for the first wire. However, I nailed it first try. The mic is bigger and heavier than expected. I didn't notice the shock mount is separate. The verdict: next pay check, I'll buy a 2nd mic. It's sounds great. The price is super reasonable. The build is simple. It's always good to have a stereo pair. Find a cool sticker so you can mark which side is the front as there is no engraving. I glued a cap over my phantom power button on my Iron Age Audio quad pre. This will live on channel 4. I plan for these to be drum over heads (after I get a 2nd one.) I'll likely buy the RM-6 for guitar. Warning: Extremely Addicting! This is my 2nd DIYRe. My first was the ReAmp. That thing is awesome. I want DIYRe to make a mic splitter and a 4x1 mixer.
Related Products