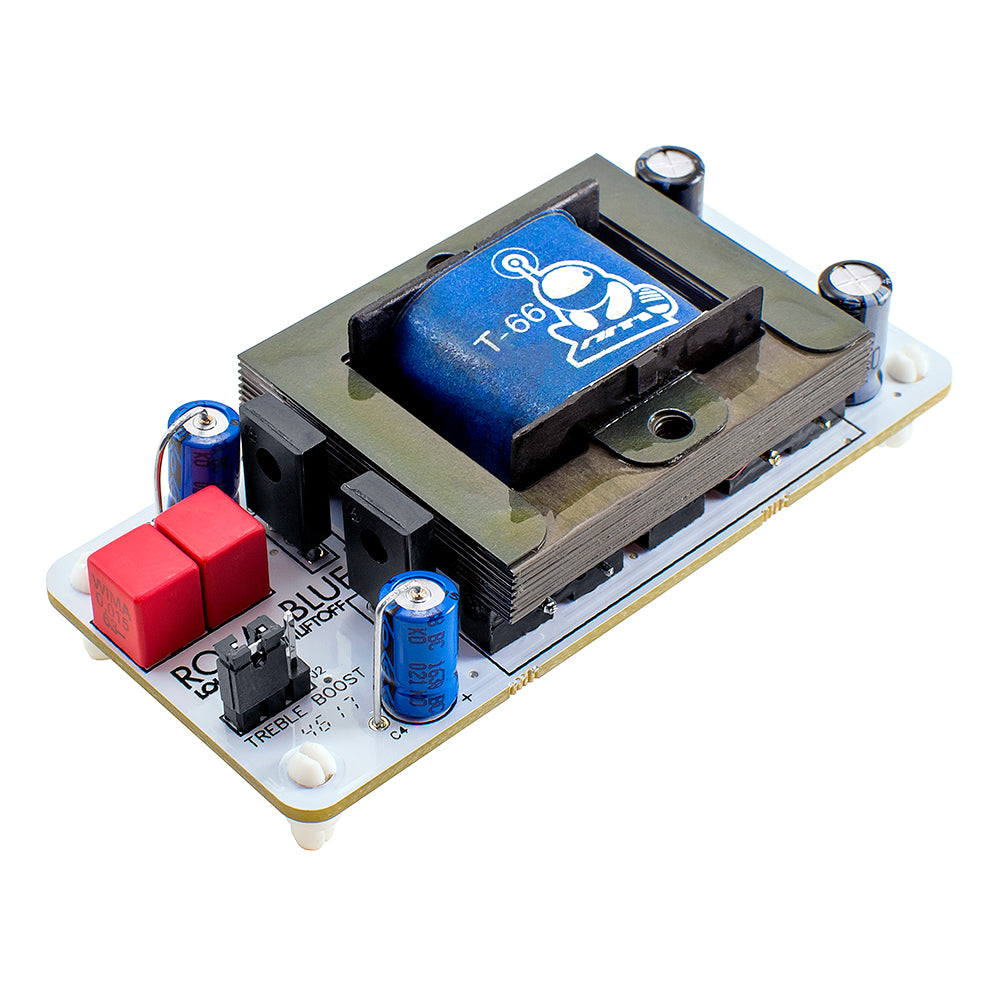 Louder Than Liftoff
Royal Blue British Channel Colour
Royal Blue is Louder Than Liftoff's take on the vintage Neve* console sound. This meticulously miniaturized channel strip adds the hallmark Neve thickness and richness to individual tracks and mixes.
The circuit is based on the 1081 Channel Amplifier from the 80-Series recording consoles of the 70's. This legendary mic/line preamp and equalizer module featured discrete transistor amplifiers and transformer-coupled input and output stages. Its powerful, yet musical equalizer section was state of the art for its time with a whopping 6 bands. 
Louder than Liftoff miniaturized the essence of this classic to fit within the space limitations of the Colour format. Multiple transistor amplifier stages drive a custom steel output transformer that offers the characteristic big tone one of the original LO2567. They even recreated the 4.7 kHz Upper Presence shelving EQ per the original circuit and carefully dialed in a fixed 5 dB boost that sounds divine on just about everything.
Features
Inspired by 1081 modules used in vintage Neve* 80 Series consoles
Discrete transistor circuitry adapted from BA306 and BA338 Neve* amplifiers
Tantalum capacitors and BC axial coupling caps like original design
Custom American made steel output transformer
Switchable 4.7 kHz "Upper Presence" shelving boost
Assembled and tested by Louder Than Liftoff.
*Neve is a registered trademark of AMS Neve Ltd.

WOW
this thing sounds great! got two and ran my mixbus thru them and they def add that vibe, I want to get all of the console colours to try out
Great tool for sparkle
I found that this module was a lot brighter than I expected but it does add that top end sparkle Neve is known for. Useful in the right situations
Favorite colour module so far
Sounds amazing, the high boost is too much for me on the master but when disabling it, it is amazing for weight and vibe
Really smooth and warm
I really like how smooth and warm this colour sounds. Definitely gives it that vintage Neve vibe. I'm using it with the 15IPS for a very warm and vintage sound. I prefer it without the upper EQ boost but I suppose it depends what you're recording and what sound you're going for. I can see how this would sound great in the CP5.
Related Products