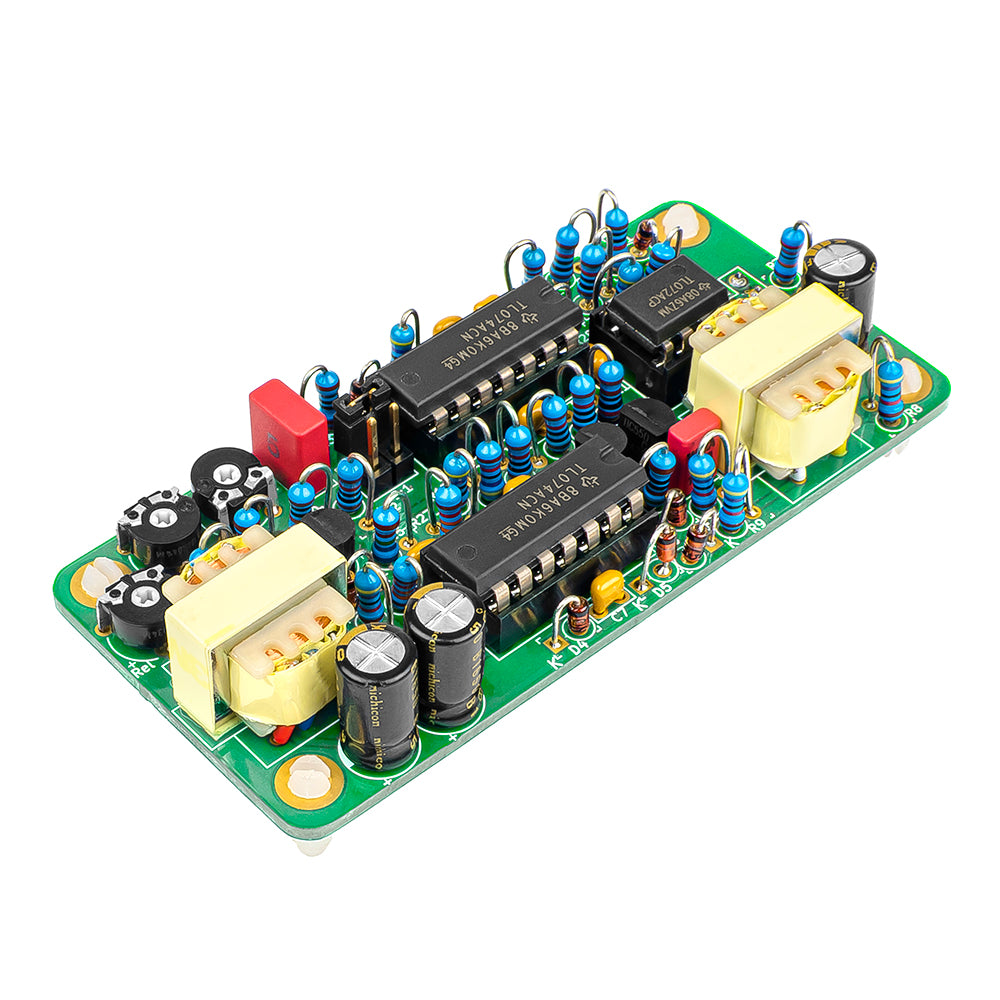 DIYRE
uComp Diode Compressor Colour
Partial Kit
Step by Step Guide
Advanced
Inspired by the classic British diode compressor design, adapted to fit on a small board. Using miniature transformers that should not be underestimated in terms of sound. From subtle control to aggressive shaping with detailed transients, all while infusing the source with that vintage, warm tone.
The uComp is a diode compressor designed by Zombie Rec. We offer it as a partial kit for advanced builders. We provide a bill of materials, assembly guide, and the harder-to-find components. You will have to source the rest of the components yourself, and there is a little bit of SMD soldering.

FEATURES
Distinctive diode compression can be dialed in for moderate smoothing or heavy limiting.

Neutrik input and output transformers

Compatible with the Colour format
Full, step-by-step assembly instructions
KIT INCLUDES
PCB
Nylon standoffs

8-pin Colour header
BC550 transistors
Neutrik transformers
The rest of the parts must be sourced separately. See the uComp Bill of Materials
Tight Snare Sound
I really enjoyed building the uComp. It gives that compact punch to the snare. Blending it with some of the dry signal sounds perfect!
Warning - Partial kit with out of date BOM
Warning, this is a partial kit (the assembly guide attached to the website does not state that and is incorrect) and the links to the BOM have parts missing and needs to be updated.
Versatile Compressor
This compressor seems fairly flexible so far, ranging from a sharp snap to an open, huge sound. The tone gets nice and dirty in the lower mids when pushed. The release can be set to an audibly-fast speed for that "fairy dust" effect. The drum sound from Zeppelin's The Crunge is easily achieved.
I'm glad the first reviewer warned about the JFET solder pads being micrometers apart; be sure to have a fine-tipped iron and a de-soldering tool on hand. Zombie Rec may want to release a reasonably-spaced revision, or you may want to buy a pre-assembled unit straight from his site (but you will miss out on the satisfaction of building an intimidating-looking circuit, haha).
Took me a bit to get used to the Colour drive knob and the threshold pot on the uComp. Unlike the Implode, turning up drive increases drive instead of lowering the threshold, which is controlled by the thresh pot. Go figure.
Love the sound, overall. Pair with a Royal Blue to pretend you have a vintage Neve console.
Would Give It A Five, But....
the placement of the solder pads for the transistors made it unecessarily dificult to solder them! Unless there is some electronic and/or mechanical reason for putting the pads side by side and the transistors flush to the PCB, it would have made more sense to put them in a triangular patternnad leave the transistors slightlt proud of the board. Arcane, byzatine design and maddeningly difficult to install Q1,2,3 and 4! That being said if there is a V2 correcting this, would not hesitate to build another. HS
Related Products