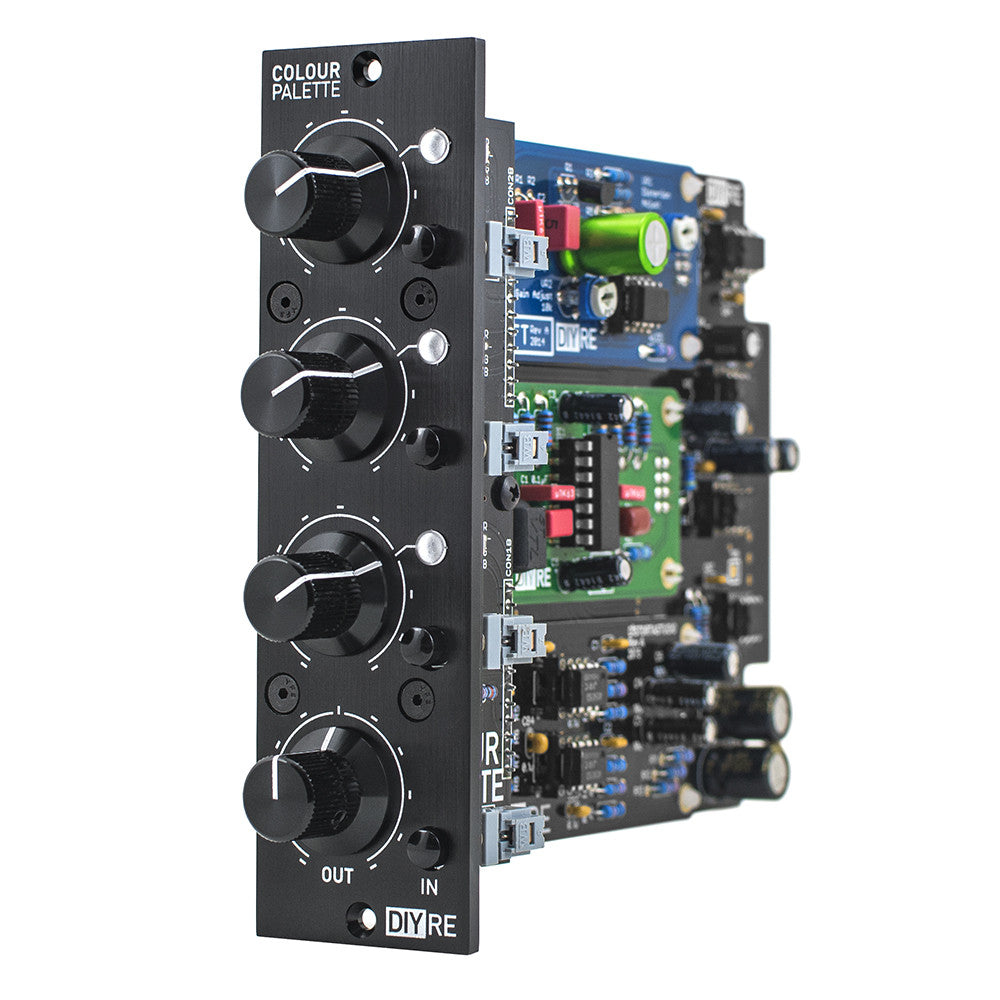 DIYRE
Dirt & Grit Colour Kit Bundle
Full Kit
Step by Step Guide
Intermediate
Add some dirt to your tracks with three unique and classic distortions.
Sometimes a little distortion is the perfect tool for making an element really cut through a mix. The Dirt & Grit Colour Bundle puts our three most aggressive distortion Colours at your fingertips during mixing.
The bundle contains:
Colour 500-Series Palette mkII Kit
Take complete control over the amount of distortion from each Colour with the Colour Palette mkII's individual stepped controls
+
JFT Class A Transistor Colour mkII 
The classic sound of a discrete, NOS transistor being driven to its limits
+
Colourupter Optical Disrupter Colour
A unique take on optical compression yields soft, musical distortion
+
Distortastudio Cassette 4-Track Colour
The deliciously dirty sound of 80's solid state amplifiers being overdriven 
Super Sick!
Easy to build, easy instructions. Great price, great sound! Can't wait to buy more modules for it.
R6: 3.9K Ohms
PALETTE great mechanical electronic design, everything fits perfectly.
Colourupter Optical has a lot of effect, I recommend putting R6: 3.9K Ohms sounds more balanced.
Colours!
This kit is an easy and well explained build. Great fun. Such an elegant solution for adding new colours to your audio explorations. In my opinion the subtle characteristics of these units are hard to match with plug ins. Although plug ins can be great, they always seem to be a bit too obvious, even when dialled back. That is not the case here. These are the real deal. If you can wield a soldering iron, what's not to like!?!
My only regret is not buying another for mix bus duties. Will be getting a second one imminently!
DirtGrit Colour Kit Bundle
This was fun! Very good instructions, no problems with assembly. Colour-modules sounding great!
Incredible and useful kit
As a novice in soldering, I was surprised at how simple and easy it was to build this kit. The instructions were clear and helpful and it was fun putting this together. After adjusting the gain and distortion, the sound just blew me away. The distortion/saturation is so sonically pleasing and it definitely adds MUSICAL grit to the sound. What's more incredible is that the JFT, colourupter and the distortastudio work so well as a combination. Great synergy. I can't stop running every track through this. Even subtle distortions give acoustic guitars much needed character and body. It also does a very good job of taming the harshness of modern synths (DSI mopho x4 in my case). I don't know how a distortion unit does so, but it takes that brittle, sterile characteristic out of my Mopho synth and adds some nice hair on it. I couldn't order the 70s kit along with this b/c it was sold out, but i really can't wait to try that one. Anyway, this is an amazing bundle, esp. considering its low price and incredible sound. Highly recommend.
Related Products