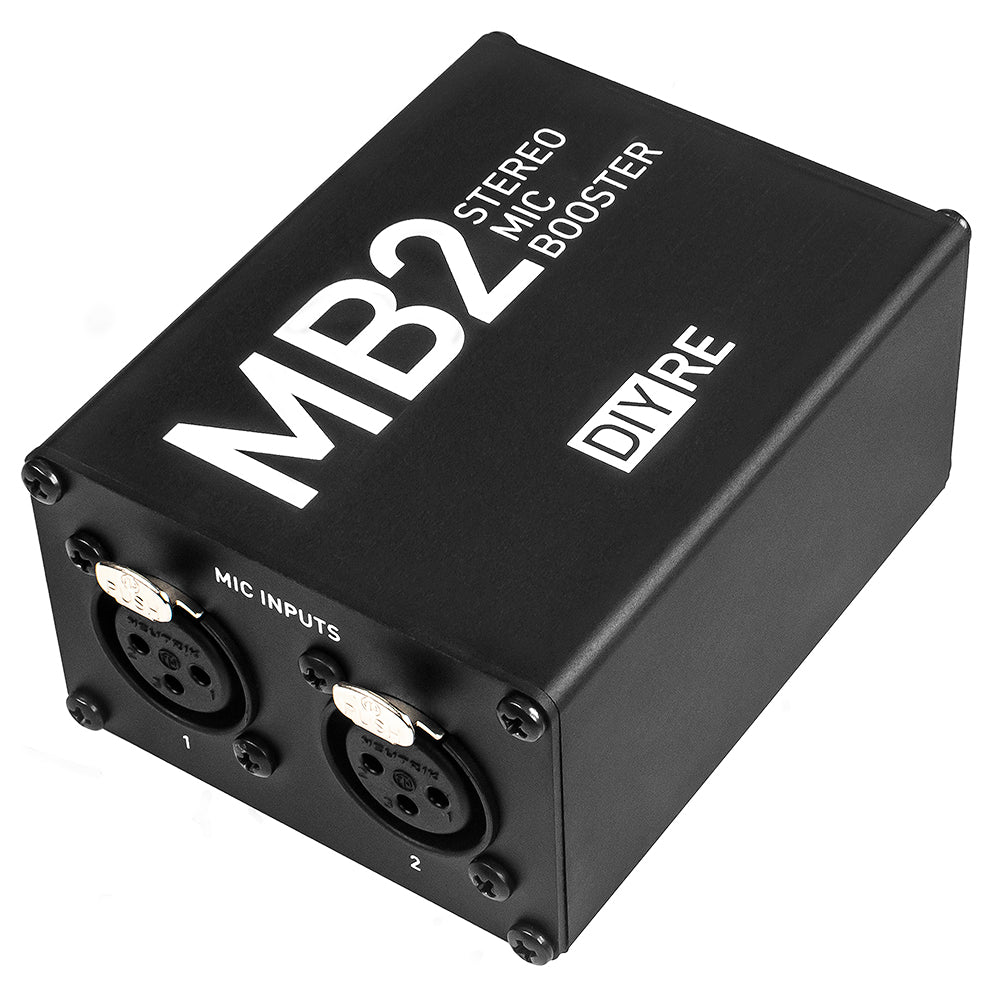 DIYRE
MB2 Stereo Mic Booster Kit
Full Kit
Step-by-Step Guide
Beginner
Get the most out of your ribbon and dynamic mics in the studio or for your podcast. The MB2 is a two-channel inline mic booster with better performance than more expensive competitors.

Boosted performance. Sometimes ribbon and dynamic mics need a little more gain than a typical mic preamp can provide. In these cases the MB2 provides 26dB of extra gain with ultra-low noise and distortion.
The MB2's high input impedance is optimized to capture the full audio spectrum of ribbon mics without damping the ribbon. And MB2's buffered, low-impedance outputs are great for driving long cable runs without noise or gain loss.
Superior specs. Don't be fooled by the low price—the MB2's premium parts and no-compromise design make for better specs than the leading inline mic boosters.
| | | | |
| --- | --- | --- | --- |
| | ($150/channel) | ($90/channel) | MB2 ($50/channel) |
| Output Impedance | 6.8kΩ | 6.7kΩ | 10kΩ |
| Distortion (THD+N) | .01% | .038% | .005% |
| Noise (EIN) | -122dBV | -122dBV | -127dBV |
| Gain | 10-26dB* | 12-27dB* | 26dB |
*Actual gain depends on input impedance of preamp following booster
Features
Factory-matched LSK170 JFETs
26dB of clean gain
10k Ohms input impedance is great for ribbon mics
Gain is the same no matter which preamp the MB2 is paired with
Lower noise and distortion than other leading mic boosters
Protects mics from phantom power
Super-durable enclosure made from architectural aluminum
Metal-film 1% tolerance resistors
+48v phantom powered
Neutrik XLR jacks
Every nut, bolt, and wire needed to complete the project
Great kit
Super easy build, works great with my Beyer M160, nice boost with no noise.
Works as Advertised
This kit takes about 2 hrs to build. After that you have a two channel in line amp for use with dynamic and ribbon mics. I have been using it on a Shure SM7 and a Royer R10 for about a week and it works just as advertised.
Excellent!
I use the AEA R88 and R84 for most of my work. Typically I run them into the RPQ2, but the MB2 gives me the option of running the mics into my SCA J99 as well, with no mud or loss of high end. I may actually prefer these ribbons going through the MB2 into the J99 than straight into the RPQ2, though both options are excellent.
Hi Q in a Low Q world
It was so easy! Great parts and board layout, works exactly as it should.
The instructions are written in a casual conversational way, and that really adds a reassuring element to the build experience.
Of course as a first rate geek I'd enjoy a specs sheet.
Always a great process!
I've built four different kits from DIYRE now and every one of them has been a true pleasure and lived up to the expectations in quality. The MB2 is a great tool to have on hand and a super quick build for anyone familiar with soldering.
Related Products