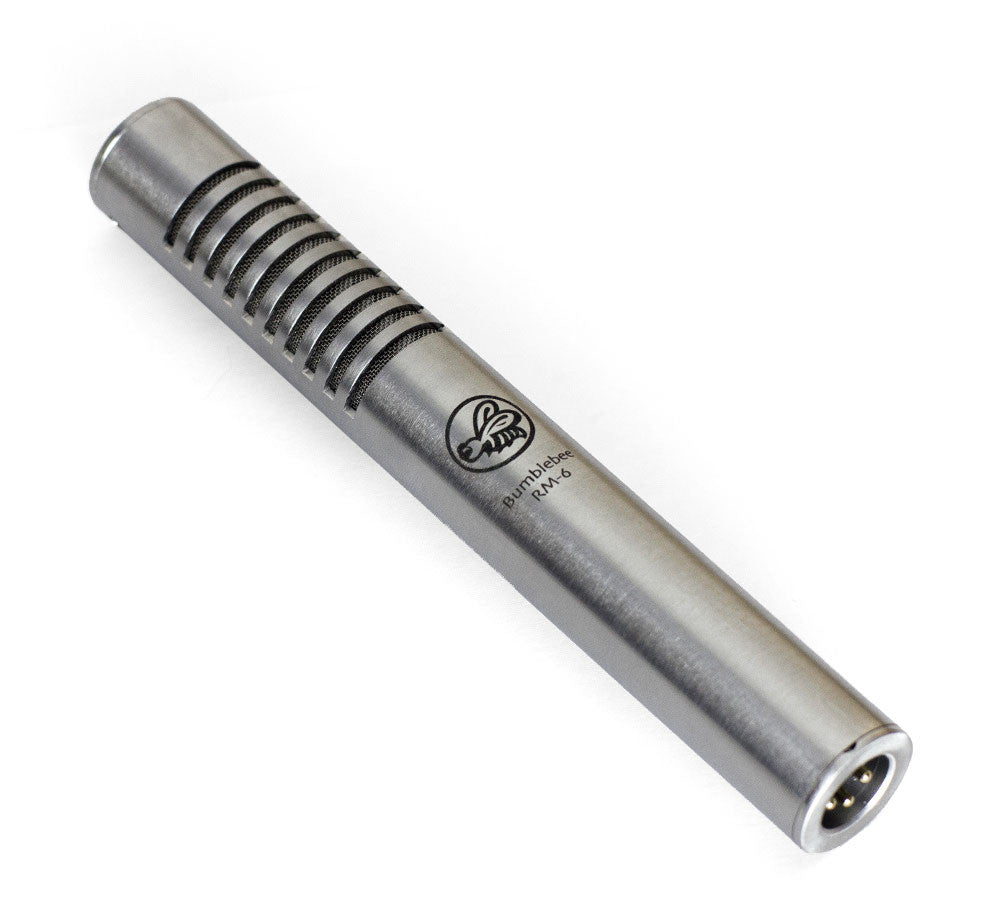 Bumblebee Pro Audio
RM-6 Ribbon Microphone Kit
Full Kit
Step-by-Step Guide
Beginner
The RM-6 is Latvian microphone designer Artur Fischer's new flagship ribbon mic. The RM-6 achieves exceptional clarity and detail while maintaining the warmth and musicality that ribbons are known for. The RM-6's 1.2 micron ribbon is hand tuned and paired with a custom transformer for the lowest distortion and greatest presence.
Please read Artur's design notes for more details and check out the audio samples to hear the RM-6 for yourself.
To purchase the RM-6 outside of the US and Canada, please visit the DIY Audio Components Store.
Features:
RE-323 ribbon transducer made of

1.2µm Japanese aluminum foil and neodymium magnets

Custom RTP-28 toroidal output transformer

Microphone body machined in Latvia of hand-selected stainless steel and matte polished for Bumblebee Pro's signature finish

Custom XLR recepticle with gold-plated pins for decades of reliability
DIY Friendly
The RM-6 kit is accompanied by photo, step-by-step assembly instructions. It's a great kit for beginners, as the ribbon motor comes pre-assembled and there are six solder joints to complete. The required tools are a soldering iron, some solder, and a hex wrench (Allen Key) set.
Kit Includes:
A shock mount is not included. The SM-28 is sold separately here.
RE-323 ribbon transducer (pre-assembled)
RTP-28 transformer
Stainless steel microphone body and mounting hardware
XLR insert with gold-plated pins
What is the difference between the RM-5 and RM-6 DIY Ribbon Mic kits?
The RM-5 and RM-6 are two different designs, they just share the same type of body. The main differences are:
RM-5 is a big ribbon mic with a 2″ ribbon; RM-6 is a small ribbon mic with a 1″ ribbon
As is typical for shorter ribbons; RM-6 has less distortion and sounds more "natural"
RM-6 has a slightly flatter frequency response than the RM-5
RM-6 has significantly higher output signal level, at least +3dB higher than RM-5
RM-6 has much lower magnetic flux leakage; there is practically no attraction between two microphones standing side by side
RM-6 motor comes with a 1.2u ribbon, while the RM-5 motor comes with a 2.5u ribbon
RM-6 comes with RTX-28 toroidal transformer optimized for thinner foil gauges
Hear a pair of RM-6s in a Blumlein setup below. Check out more audio samples under the "Audio" tab above.
The instruments (and vocals) in these videos were recorded using RM-6 Ribbon Microphones in Blumlein setup. Switch to HD video for higher audio quality.
RM-6 Ribbon Microphone is the result of all the experience and knowledge we have gained during the years of manufacturing and improving our parts and kits. The development process of RM-6 took nearly two years starting from the first sketches and ending with the units of the first prototype run.

The RM-6 Ribbon Mic Kit features precision machined and individually hand-tuned RE-323 ribbon microphone motor with a 1" long ribbon made from highest quality Japanese aluminum foil and high-grade NdFeB magnets. The motor was designed with the help of magnetic flux analysis software in order to prevent the excessive saturation, reduce the flux leakage by around ten times comparing to RE-254 motor (RM-5 kit) and increase the flux density in the ribbon gap resulting in significantly higher output signal level.

The RTP-28 toroidal transformer of our own design tuned for the higher impedance of thinnest foils gauges makes a perfect match with the motor revealing the great presence effect and preserving the clarity of sound.

Bodies are individually machined by a local company from hand selected stainless steel tubing of finest grades with attention to the details and mechanically matte-brushed for our signature appearance. Our own original XLR receptacle is CNC carved right in the bottom cap and male XLR insert with gold-plated pins is included. The Bumblebee logo is engraved with a fiber laser, so it's nearly impossible to damage it.

-Artur Fischer, Designer
Acoustic principle: pressure-gradient
Polar pattern: bi-directional / figure-eight
Circuit type: passive
Recommended load impedance: > 2000 Ohms
Frequency response: 35 - 14.000 Hz approx.
Output connector: 3-pin male XLR
Dimensions: D 1.10" (28 mm), L 7.68" (195 mm)
Review for Beginners
First, I had not experience with ribbon mics going into this purchase. Some of you will probably read through this and think, 'Yeah, duh!' But I am hoping this will help some people who are in the spot I was in when I bought a pair of these a couple of years ago. I struggled with mine for the longest time. I kept going back to them, but could not get a clean recording at a usable level; there was so much hiss! I tried a TON of mic preamps, and could not get a recording where the noise floor didn't make it unusable. None of the preamps I had access to were ribbon mic preamps though. Then I tried mic boosters. I tried both the Cloudlifter CL-2, and then the MB2 from DIYRE. Both improved the performance a little, but the noise floor was still too high to get a usable recording. I finally read through the comments in the demo video for the RM6, and they noted that they used the Grace Designs M201 preamp, which is about $1,900 new. I was able to get ahold of Grace Designs' 1-channel version, the M101, plugged in each mic separately, and each sounded fantastic! As a beginner, I wish I had known that these mics (and all non-active ribbon mics) cannot just be plugged into any preamp. If you do not have a ribbon preamp, I would plan to pick one up to use with these. There are some less expensive options than the Grace Designs amp, but I will say, it does sound great!
I hope this helps!
Easy assembly; great mic!
This was super easy to put together - maybe 20 minutes from opening the box to recording with it. It picks up my resonator beautifully, which can sound a bit strident through some mics. Off-axis rejection is excellent as expected.
RM-6. Incredible all around mic
The assembly took me around 1 hour for a matched pair of microphones. I would consider myself a beginner solderer (I've soldered cables for a few years on and off and have a decent setup) and this project was easy. As my first experience with ribbon mics, I was very careful, and constantly reminded myself to not breathe or blow in the direction of the ribbons. Sliding the ribbon motor into the frame was the most difficult part. It takes some 'finessing' and patience to not jostle too much. In the end, I think I was over careful, but I wanted to make sure not to mess it up. The online video and step by step written instructions are fantastic. THEY SOUND INCREDIBLE. I have some nicer condensers in my studio (that's all I have to compare-Lauten Clarion 357, c414/214, vintage sennheisers,) and was pleased at how they match quality wise and beyond. The stereo image in a Blumlein spread is amazing. Acoustic guitar, piano, vocal, electric guitar--this mic is Super Natural, no hype or harshness on highs. It picks up all the lows, rumbles, etc. Reasonably flat sound with a low cut on. I found it perfect for taming a brighter/harsher acoustic I have and a brighter piano. I tested through a cloud lifter to Apollo 8xp and then just the Apollo 8xp.
Good, just be careful
It was good, very straight forward, just exercise caution. I had a few moments of heavy hands and one moment of not paying attention and ruined the capacitor for the mic. But after getting it all put together and running right, It's a good mic, little heavy in the low end but nothing to bad, just an opinion of sorts.
Great mic, but there are some tricky steps to the assembly...
I got my RM6 assembled and working about four days ago. I've only had time to get some initial impressions, but so far I think it sounds very good. But before I get into that, a word of warning about the assembly: I would consider this a very easy build except for two things. One is that, just like the instructions say, the fit of the transformer inside the body is VERY tight. It's physically difficult to push it up into the body in order to attach the leads to the ribbon motor, and then back down again when it's time to install the motor.
The second thing is that inside the grille, there's a screen that's only held in place by its own tension. I had a lot of trouble with the screen wanting to travel down into the body as I inserted the motor. In fact, while trying to remedy this without taking the whole thing back apart, I accidentally ruined my first ribbon motor when my pliers got too close to the magnets. Fortunately, DIYRE was understanding and helped me out, but before you start fitting components into the body on this kit, I STRONGLY encourage you to secure that screen. I managed to do it with a couple of strategically placed strips of electrical tape.
All that aside, this mic has a very pleasing tone. The top end is velvety smooth. I did brief tests on spoken word, acoustic guitar, and drum overhead. It sounds particularly good on the latter two. Now I want a second one so I can try it in a Blumlein pair.
Related Products