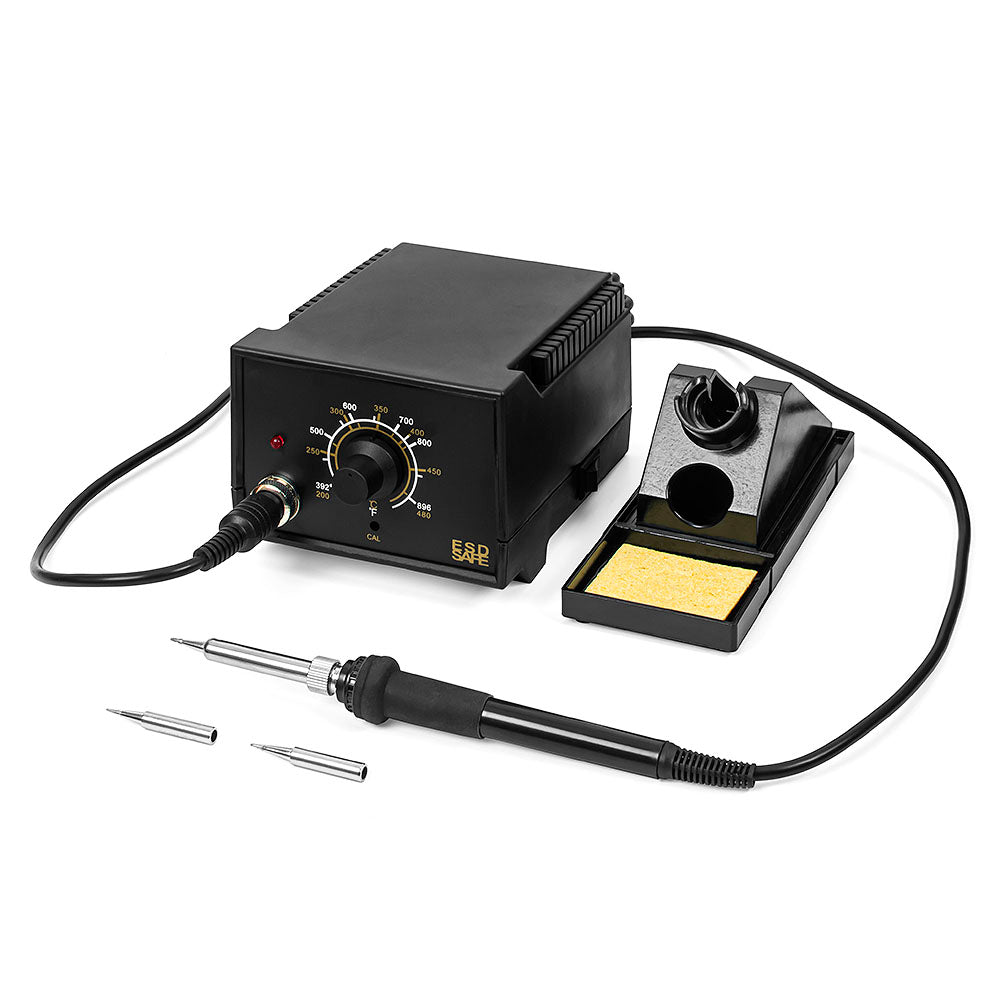 DIY Recording Equipment
60W Soldering Station
We found a great deal on a quality soldering station, so we're passing it along to you.

This incredibly capable budget station is perfect for getting into DIY. It heats up fast, stays hot even on big pads and XLR pins, and comes with two extra tips.
Features
Adjustable temperature
Soldering iron holder
Tip cleaning sponge
Heats up fast!
Includes two replacement tips (model 900-M-T-B)

392-896°F temperature range

For

AC 110V/120V 60Hz wall power

1 year warranty
Note: Because of its size and power requirements, we don't ship this soldering station outside the United States.
Hoping to Use it More Soon
The station didn't come with the extra replacement tips. Unfortunately, after the first day of soldering, the tip got damaged due to an error on my part, and I haven't been able to use it. Based on my limited use, however, the unit seems alright. A couple of days ago, I tried finding someone to contact at DIYRE, but having no luck on their site, I replied to an email from newsletter but haven't heard back.
Since there is no ostensible brand name, it would be nice if there could be a list of some replacement tips that fit, or even a guide to what measurements to make when searching for replacement tips.
Considering the price of the unit and it's overall production quality, and not having had much experience with other perhaps more expensive soldering iron stations, as I previously used just a medium duty Weller soldering iron, I am happy with the station and hope to use it more soon.
Great Soldering!
Bought this to replace my cheap-o old kit I had for years from the big box store. I wanted to slap myself for waiting so long to get a great kit like this after about two minutes after I first used it! A great soldering iron, heats up quick, the variable temp control is great, the tips included have worked for me to build a summing amp, upgrade a few microphones, and completely recap my 24 channel console, and all for a super cheap price! I feel like a pro now! Thanks!
Trying to reach you
I emailed you guy about replacement parts for my CP5 preamp and you have not gotten back to me so Im attempting to reach you through this review. Please contact me at [****]
Great Unit
Probably the best soldering machine I ever owned. pointed tips are a litte big for smaller applications but they get the job done!
Related Products