DIYRE
CP5 Colour Mic Preamp
Full Kit
Step-by-Step Guide
Intermediate
The CP5 is the first microphone preamp to feature Colour. On its own, the CP5 is a reference-quality, 500-series mic preamp with copious amounts of clean gain. With Colour, the CP5 is the most tonally versatile preamp in the world.
World Class Preamp. The CP5 is a transparent, low-noise preamp that performs as good or better than preamps 5x the price (seriously, check out the SPECS tab above). The preamp's signal path features only best-in-class components, including WIMA capacitors and THAT Corp. ICs. Preamp gain and Colour are adjustable via stepped controls for easy recall and stereo operation.
Add Some Colour. Plug any Colour module into the CP5 to add some character to your preamp. Dial in the exact amount of Colour you want with the stepped Colour control. Switch between tone and transparency with the Colour bypass switch. The CP5's preamp works with or without a Colour installed.
Beginner Friendly. Like all our kits, the CP5 comes with every part required and step-by-step picture instructions.
Full Features List
Fully compatible with the 500-series format
Stepped controls (21 positions) for easy recall and stereo operation
Anodized black aluminum knobs and front panel
Phantom power, polarity, -20dB pad, and Colour switches
Mic preamp gain adjustable from +20-66dB
Ultra-transparent, low-noise preamp

No electrolytic capacitors or transformers in the signal path
WIMA film coupling capacitors
Based on the best-in-class THAT Corp. 1512 preamplifier IC
Electronically balanced inputs and outputs

Single Colour socket
Colour control adjusts amount of Colour without changing overall gain
Kit includes every component required to build the CP5
Step-by-step manual and guaranteed support 
The CP5 circuit and PCB layout were designed by Peter and Robert-Eric Gaskell of GKL Audio.
What the Pros are Saying
"Undoubtedly the most flexible and variable mic pre out there. And if you know how to solder it's at an unparalleled price point for its quality. Pro tip... it pairs extraordinarily well with DIYRE passive summing mixers for even more tonal flexibility on your mix bus or group buses."
-Jack Mason
J.Cole, Joe P, Spotify Singles
"This really is one of the most versatile and useful preamps on the market. If you like getting your hands on a soldering iron, it can be one of the most satisfying to own as well."
Dialing in drum sounds with the CP5 and Colours:


CP5 ($150)
($745)
Input Impedance
3.6k/7.2k (pad out / pad in)


Gain
20-66dB, unity gain with pad engaged


Pad Attenuation
20dB


THD+N @ 20dB gain*

0.00040%

<0.00085%
THD+N @ 40dB gain*

0.0007%

<0.0010%
THD+N @ 60dB gain*
0.005%
<0.005%
Noise (EIN), 66dB gain, 150

Ω source

-128dB
-128dB
CMRR @ 10kHz, 60dB gain

80dB

65dB
*+20dBu output, 1kHz, 20-20kHz bandwidth
Real analog plugins.
Colour is a new format for analog audio gear designed for and by the DIY community. We took our favorite sounding analog circuits and put them on modules that are small, affordable, and swappable.
The Colour format consists of Colours and Palettes:
Colours are ultra-compact, pluggable analog circuit blocks that impart various types of analog color. Check out our ever-growing selection of Colours. Colours can be designed and released by anyone.
Palettes provide controls, power, and support circuitry for Colours. We currently offer the Colour 500 Palette and CP5 Mic Preamp with Colour.
Couldn't be happier!
This preamp is the real deal! As a novice builder, I really appreciated how the instructions walk you through the build with such thorough detail - DIYRE is also incredibly helpful and responsive if you have any questions in the process. A fun build, an incredibly sounding preamp that punches right up there with my vp312s, and the flexibility of a colour module with variable blend. Definitely will be getting a few more of these in the near future!
Very simple and straightforward build, great quality as you would expect from DIYRE.
Oh, and the actually preamp sounds great! Lots of clean gain and color-module tastiness control 💪
Nice for the Price
For the price, this is a very nice sounding preamp. It's not sterile, but at the same time, it's not exciting either. That can be a good thing. I was more inspired by the telephone colour module, that sound I found much more intriguing.
Easy build and clean gain
Took about 2 hours to put together, including the CTX module. Documentation is clear and excellent. Sounds great! It's very clean, almost SSL-like without the colour pad on, but with the transformer engaged, there's a lovely bit of Iron sound that thickens up whatever you're putting through it.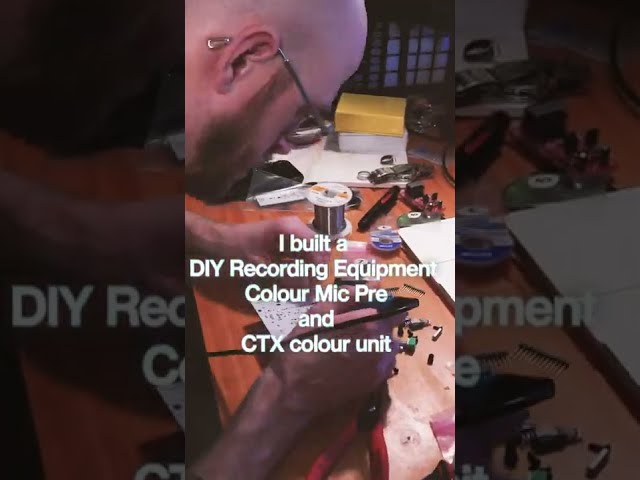 Punches Way Above It's Weight Class
Reviews of audio gear are tricky. Unless you're really cheesed, people tend to leave glowing reviews because they want to feel like they love their purchase. Everything has vintage warmth or harmonic depth or analog richness. Everything is identical to a 1073 or an 1176 for two hundred bucks.
In this case, however, I have to say that this little 500-series mic pre is just plain excellent. It is clear and clean, with an invisible noise floor, and it puts out gain without breaking a sweat. Add in the capacity for a Colour module (I use the CTX, an API-style op-amp and a Cinemag transformer), and for about $250, you've got a really fantastic mic pre. Particularly on vocals, when you stack up several tracks with a bit of the Colour module on them, they really just gel and they sound excellent with very little need for sweetening and other in-the-box finagling.
Like I said, it's not magical. It's not going to blow the doors off mic pres costing fourteen times as much or whatever. It didn't make Rick Rubin throw all his other gear into the river. But it's as clear, precise, and powerful as anything you're likely to pay $500 to $750 for. And far more sonically flexible.
So if you think you can solder a few bits onto a circuit board and screw a couple knobs onto some pots, this is your mic pre.
Related Products