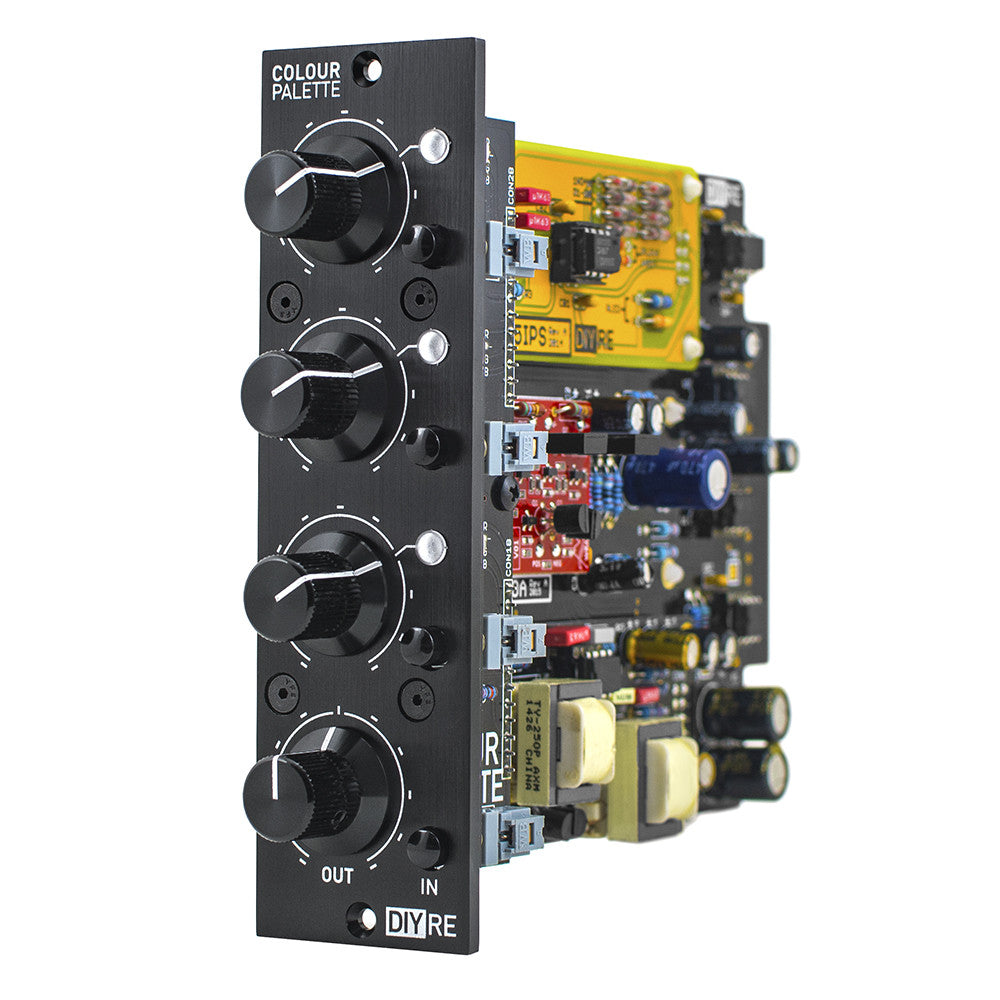 DIYRE
70's Character Colour Kit Bundle
Full Kit
Step-by-Step Guide
Intermediate
Vintage signal chain in a single 500-series space
Compare a typical 1970's signal chain to today's: in the 70's a mic would be run into a console channel strip with its dozens of transformers and transistors, then perhaps to a compressor, then to a tape machine. Every one of the hundreds of analog components the signal passed through would impart some sort of character to the tone. These days, most of us plug a mic right into a digital interface.
So is it any surprise that it's difficult to make records with lots of warmth and character today? We're simply not running our signals through as much colorful stuff.
Bring three stages of real analog tone to your studio with the 70's Character Colour Bundle.
The bundle contains:
Colour 500-Series Palette mkII Kit
Control how hard you drive each stage in your signal chain with the new Palette mkII
+
15IPS Tape Saturation Kit mkII
The natural compression, wooly saturation, and low-end bump of analog tape
+
TM79 Multi-stage Saturation Kit
Transformers and discrete transistors combine to create a thick vintage texture
+
DOA Colour Kit + RED-25 Discrete Opamp
The punchy, mid-forward tone of a classic 70's console DOA
Great overall!
Bought the kit version, took me a couple hours to get it all soldered up, not too difficult if you have some experience soldering and assembling. Sounds great too, crunches everything up exactly how I'd hoped for especially if you are a connoisseur for mangled drum sounds like me!
Best audio DIY
These kits are probably the best diy audio kit's available. Very easy to assemble with detailed instructions.
Just built #2
I liked this thing so much, I had to make a second one so I can experiment with this whole stereophonic sound thing. They make pretty much everything sound better, even with the gain dialed all the way down on each module. The only "problem" is that I now have a nicely matched pair, so I might have to make a third for experimenting with additional colour modules.
Fantastic, Versatile Kit
Purchased this after using the Dirt & Grit bundle and getting hooked! Easy build & clear instructions.
The textures that this kit can create are so impressive. It sucks all the sterile digital-ness out and adds
a lot of musical tonality to the tracks. It can handle so many different situations like dirtying up a DI bass,
Adding some character to vocals, livening up drums, etc. with ease. Really pleasant harmonic saturation.
I've been using it for 2 weeks and it is still wowing me. Also, the customer support is fantastic.
I had a minor inquiry and the response was very fast and helpful.
Great!!!
Fun build with excellent documentation! All modules were an easy assembly as well. Sounds really good too!!! Great work!
Related Products